TYBAPFMB's Guide To Hinata The Hyuuga Heiress
Updated For Version 1.3.9
l. Hero Intro and Background Story

Hero Intro
Hinata is a very unique hero because of the fact that all of her spells deal physical damage, this means that as the game progresses Hinata will only get stronger and her spells don't lose effectiveness. Being as how she's a
Hard Carry*
means that her early game is rather weak and is a very item dependent hero.
*A late game hero who is usually weak and/or useless early game and needs constant farm to get items in preparation for their late game ownage.
---
Background Story
Hinata comes from a family where they have a strict rule about the main and branch famalies. She also likes Naruto secretly however, she is not brave enough to admit to him about her feelings. Hinata may not be as talented as Neji, but she still has potential to be the best
ll. Stats

Strength - 15+1.9
Agility - 21+2.75
Intelligence - 14+1.5
Hitpoints - 480
Mana - 182
Damage - 38-48
Armour - 3
Movement Speed - 305
Attack Range - 100(melee)
lll.Pros and Cons
Pros
(+)One of the best carries in the game.
(+)Extremely dangerous during team-fights
(+)Easily able to take down more than 1 opponent
(+)Doesn't need much mana
(+)Byakugan can easily detect ganks
(+)Spells never lose effectiveness
(+)Good attack animation for last hits
Cons
(-)Heavily item dependent
(-)Bad lane control
(-)Rather average stat growth
(-)Rather squishy
lV. Skills

Juho Soshiken
Gentle Step Twin Lion Fists. The user forms two large lion-shaped shrouds of chakra around their hands, then thrusts them forward at the opponent.
Level 1 - Deals 125% of her attack damage as physical damage.
Level 2 - Deals 175% of her attack damage as physical damage.
Level 3 - Deals 225% of her attack damage as physical damage.
Level 4 - Deals 275% of her attack damage as physical damage.
Cooldown: 16/14/12/10
Spoiler:
---
Jyuken
The Gentle Fist is a style of hand-to-hand combat that requires great flexibility and agility to inflict internal damage. Any physical attack will do a bonus magic damage based on the user's agility.
Level 1 - 15% of agility.
Level 2 - 20% of agility.
Level 3 - 25% of agility.
Level 4 - 30% of agility.
Spoiler:
---

Byakugan
The Byakugan is the Hyuuga clan's blood line rtait that give them several abilities. One of them gives the user a near 360 degrees field of vision, the ability to see through solid objects and reveals invisible unit, making it difficult for enemies to take by surprise a byakugan user. Reduce incoming damage by a % and gives unobstructed vision. Lasts for 5 seconds
Level 1 - Reduce damage by 15%
Level 2 - Reduce damage by 20%
Level 3 - Reduce damage by 25%
Level 4 - Reduce damage by 30%
Cooldown: 10
Spoiler:
---

Shugohakke: Rokujyuu Yonshou
Protection of the Eight Trigrams. This move uses chakra and rotates around her, making it deadly if anyone is near. Deals physical damage in a 350 AOE, last for 2.5 seconds and slows by 40%
Level 1 - Deals 15+35% of her attack damage as physical damage every 0.25 seconds.
Level 1 - Deals 25+45% of her attack damage as physical damage every 0.25 seconds.
Level 1 - Deals 35+55% of her attack damage as physical damage every 0.25 seconds.
Cooldown: 60
Spoiler:
---
V. Skill Build
Skill Build
Level 1:Jyuuken/Stats
Level 2:Byakugan
Level 3:Juho Soshiken
Level 4:Juho Soshiken
Level 5:Juho Soshiken
Level 6:Shugohakke: Rokujyuu Yonshou
Level 7:Juho Soshiken
Level 8:Jyuuken
Level 9:Jyuuken
Level 10:Jyuuken
Level 11:Shugohakke: Rokujyuu Yonshou
Level 12:Byakugan/Jyuuken
Level 13:Byakugan
Level 14:Byakugan
Level 15:Stats/Byakugan
Level 16:Shugohakke: Rokujyuu Yonshou
Level 17-25:Stats
Spoiler:
---
Vl. Item Build
Starting Items v1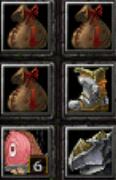 These are your basic items
IF
someone on your team bought a chick. You get one Idate's Boots for some starting damage and can also be made into a Spark of Agility. 3 Shinobi Pouches for some extra stats for your strength and Intelligence. Shin Guards so you can take some hits. And 2 sets of food supplys so you can stay in lane longer
Starting Items v2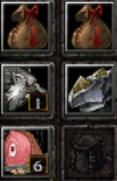 This is the build you should go if no one on your team bought a chick. Yes I know you shouldn't buy a chick unless your a support character but a chick is just too good of an item to pass on. It can deliver you items maximizing the amount of time you can stay in lane, refill your bottles if you decide to get one, it can even help you ward!
Spoiler:
---
Core
It's a rather pricey core but once you get one item it makes it alot easier to get the next. This core Gives you +76 attack damage which is enough to make your spells devastating. It also gives +16 strength which is and exrta 304 hp, +6 Intelligence which is 78 extra mana. Although some people consider Gelel as an optional item i believe that it should be a core item. This is because on a team of 5 chances are there are gonna be at least 6 different disables that can end your ultimate be it item or spells. Odds are one of these are gonna be for you as any competent team will know that stopping Hinata is a MUST. Therefore having a Gelel solves almost all your problems. You get a Shuko because it's cheap agility and bonus MS and AS. You would pick Idates instead of Treads because Hinata doesn't benefit from AS and the bonus damage from Idates outweighs the bonus stats on Treads. The 2 sparks are optional depending if you need the little bit of juice or not and of course always carry a TP scroll.
---
Luxuries
*Note that this is in no specefic order
Solar Blade - +60 damage and an exrta 40 dps burn on top of your ultimate? Hell Yea!
Good Guy Suit - +30 damage,+30 agility,+30% AS,+30% avoidability? win! win! win! win! Alot of people forget that the +30 agility from this item also gives you a bonus +30 damage which means its actually +60 damage! The +30% avoidability plus your Byakugan means that you'll take even less damage! This is the perfect item for Hinata.
Haku's Overcoat - +30 Intelligence, +15 armour, -25% freezing aura, Frost armour(active). Although this item doesn't boost much in firepower it ensures that your targets will never be able to get away. The freezing aura makes sure that your target won't be able to escape from your ultimate, and the 30 exrta INT means that you will never have mana problems.
Kusanagi - +60 damage and corruption aura? Since you deal physical damage less armour means more damage!
Amenonuhoku - +250 damage? Say no more, although this item may seem fun to use it can also be used against you if you die so keep that in mind and watch out
Fourth's Legacy - This is really just a luxury for everyone the teleport helps and it doesn't hurt to have more MS
---
Rejected
Twin-Fangs of Abyss
This deserves a special mention because so many people like to pick this orb. Yes it's cheap but it isn't that great. The reason why it's rejected is firstly Hinata does not need a slow(Maim) not to mention its only a 15% proc chance. The stats are also just decent a Gelel already gives roughly the same amount of Strength. Leaving a Shuko is much better.
ALL
other orbs. Why? simply because they don't work on Hinata. Lifesteal is useless on Hinata so that takes out Nidaime's Helm and Jashin's Amulet. Any slow orb is also useless because it simply does not benefit you. (Twin Fang,Lunar Sword,Poison Gauntlet) Ikazuchi and Chakra Smasher both don't work because you simply don't attack fast enough to proc it/burn enough mana.
ALL
of the mana items simply because Hinata doesn't need it most of your skills don't even cost much mana.
---
Vll. Game Strategy
Early Game
Farm,farm,farm. Focus on getting last his and denies. Don't Gank unless absolutely neccessary. Being a hard carry your main job is to just farm until late game. Remeber Free Farm is
KING
. Most importantly SURVIVE this means keeping your hp above 0 at all times. Catching an early death can really throw you off because you lose alot of time with which you can farm. And also farm.
---
Mid Game
SAME THING FARM! Except now if there are ganks or clashes near your lane and you are ABSOLUTELY sure you can get a kill then go for it, if not then continue farming. Use your Twin Lion Fists to charge at the enemy hero who is closest to the most amount of other enemy heros and then use your ultimate, if done right you'll most likely be able to rack up some kills.
---
Late Game
If you've farmed well enough earlier then this part of the game should be no problem. Your gentle step and eight trigrams shuold easily be able to take down most if not all of your opponents. Just remember to use Gelel BEFORE you use Eight trigrams or your just gonna end it and waste it. When youclash with the other team stick to trying to hit the enemy hero who is closest to the rest and also remember to cast byakugan and gelel BEFORE you Rambo in.
---
Vlll. Hero synergy and Counters
I'm not gonna say much because you need to learn this by playing the game more and more but there are a few I would like to mention.
Gaara
His skills just synergize with your's so well. His Hold ensures that your ultimate does its full damage and since your ultimate slows it also sets him up to cast his ensuring death.

Kaguya Armour
The worst thing that can possibly happen for Hinata. Since you deal Physical damage any damage you deal will be dealt back against you. Its like Hitting a wall, the harder you hit the wall the harder the wall hits you back. In times like this your only hope is to wait for them to use it then casting your ultimate or just wish for the best.
---
Vlll.Conclusion
In my opinion Hinata can be one of the best carries in the game. Her greatest feature is also her greatest enemy, she's like a glass a cannon.
Thank you for reading my guide, this is my first guide and im open to suggestions. Feedback is always nice and if I feel like you make a very good point I'll put you in the credits and add your suggestion into the guide. I hope this'll help you play better!